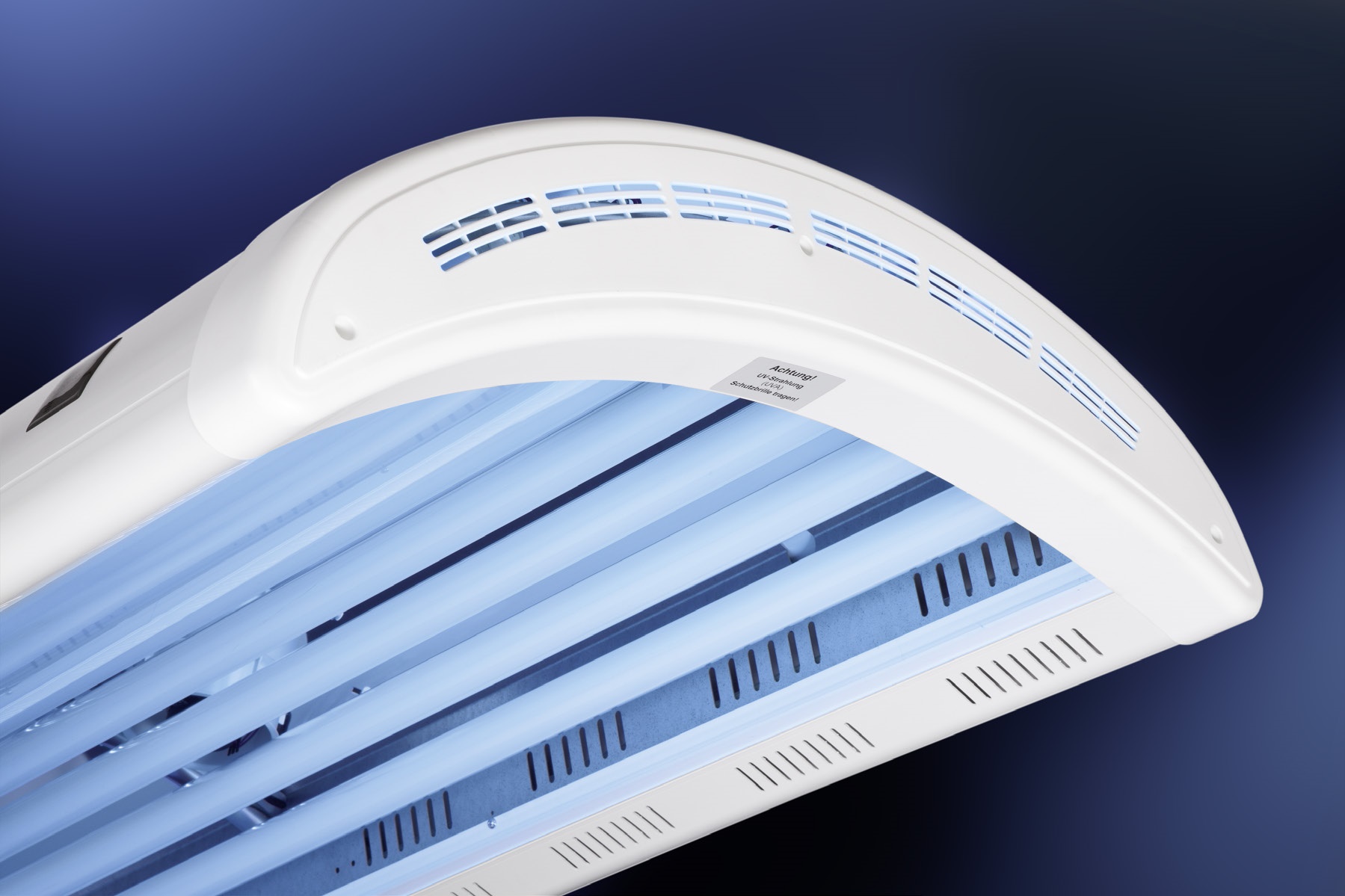 dermalight® 1000
Homogeneous irradiation from head to toe – also for home use
For flexible UV total body exposure while standing, lying & sitting
The dermalight®1000 enables homogeneous irradiation from head to toe, both in professional use and treatment at home. The mobile, fixed stand allows the unit to be conveniently brought to the treatment site and stored to save space.
The product is available in two different tripod versions:
The dermalight®1000 U stand can be swivelled continuously by 90 degrees and thus enables application in standing, lying and sitting positions. The infinitely variable height adjustment guarantees the ideal treatment distance even when lying down.
The optional addition of a louvre makes it possible for the dermalight®1000 T stand to apply local therapy, e.g. to the back or neck area. The imprinted measuring rod allows the irradiation area to be precisely defined.
Compact data
Protection features
Acrylic glass pane protects against direct contact & soiling of the spotlight
Meets all standards of the current state of the art
Has current test reports issued by an accredited test laboratory
Patient safety goggles protect users from UV radiation
Microprocessor control with time limit and safety shutdown
Effectiveness
High irradiance, meaning short irradiation times
Intensive, even irradiation due to optimised reflectors
Emitters have long service life due to magnetic ballasts
Operating hours counter (only for dose)
Comfort
Handy, light and convenient to store
Mobile, space-saving tripod
UV light-proof louvre for partial body exposure (optional & only possible with T-stand)
Individual emitter equipment possible
Optional dose or time control
Areas of application
Full body
Optional: Partial body exposure with louvre (T-stand)

Indications UV-B 311 nm
Psoriasis
Vitiligo
Vitamin-D-deficiency
Indications UV-A
Neurodermatitis
Psoriasis (PUVA-Therapy)
Polymorphus photodermatosis

Unit dimensions (LxWxH)
88 x 71 x 192 cm (U-stand)
76 x 51 x 192 cm (T-stand)
Weight
36 – 43 kg
Radiation outlet (WxH)
61 x 173.5 cm
Irradiance
5,3 mW/cm² (8 emitters UVB 311nm)
7,5 mW/cm² (12 emitters UVB 311nm)
11,5 mW/cm² (8 emitters UVA)
17,1 mW/cm² (12 emitters UVA)
Power supply
230V AC, 50 Hz
Class according to MPG & labelling
IIa / CE0123
Scope of delivery
• 1 dermalight®1000 (depending on version)
• 1 pair of UV-protective goggles (patient)
• 1 instruction manual
• 1 patient journal
Subject to technical changes