dermalight®80R
Around the world without constraints
Dermalight®80R _ BASIC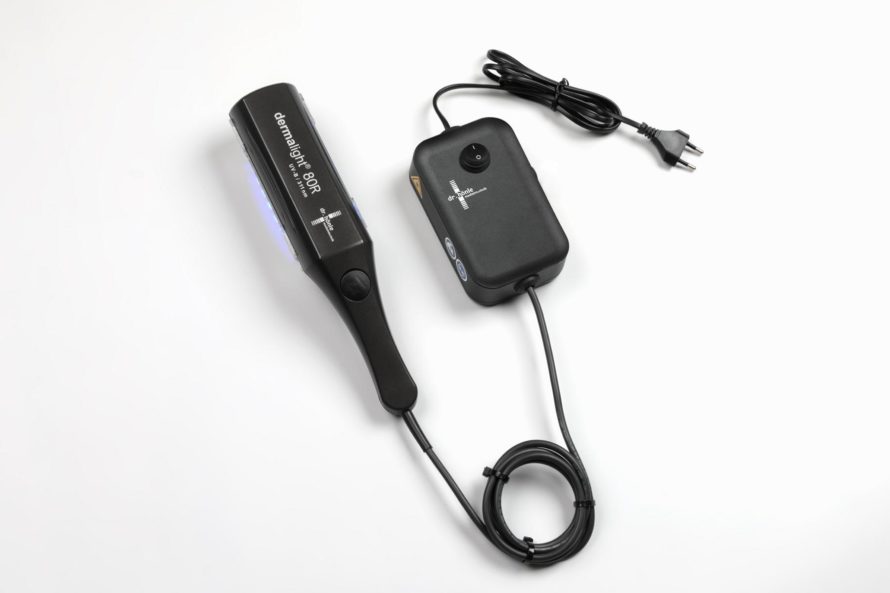 The new Dermalight®80R BASIC lets you not only use the hand unit externally (with a control-unit) but also thanks to its wide-range power supply you can use the device worldwide, without the need of an additional power transformer.
Also, the state-of-the-art device is compatible with all relevant norms, which are proven by an accredited laboratory in Germany.
All this combined makes the new designed Dermalight®80R BASIC the world's only hand unit with its uniquely outstanding technical features.
Dermalight®80R _ PLUS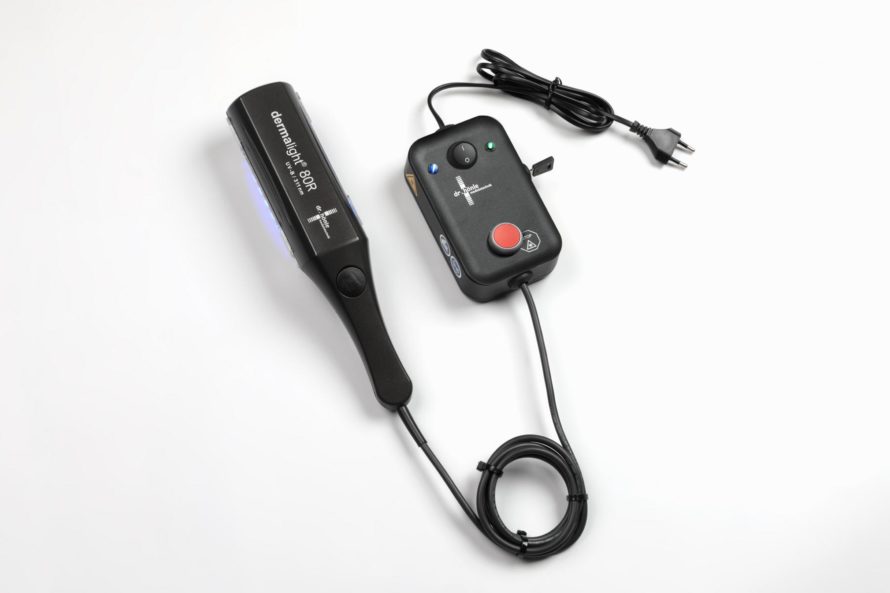 The Dermalight®80R_PLUS utilizes all new technical features of the Dermalight®80R _BASIC but also provides additional security features as per DIN EN ISO 60601-1-2-57. Those security features are for increased patient safety.
The control unit can be upgraded at any time without performing changes to the base unit. However, any upgrade will be performed by the manufacture and has to be send in.
Indications UV-B311 nm
Psoriasis
Vitiligo
Vitamin D Deficiency
Indications UV-A
Eczema
Acne
Psoriasis (PUVA Therapy)
Polymorphic Photodermatosis
Type:
Dermalight®80R BASIC & PLUS
Article number:
202 000 – 242 500 (BASIC) & 203 000 – 243 500 (PLUS)
Dimension comb:
300 x 60 x 45 mm (L x W x H)
Dimensions control unit:
150 x 80 x 45 mm (L x W x H)
Weight:
0.80 kg
Irradiation withdrawal:
110 x 40 mm
Irradiance:
7.5 mW / cm²
Power supply:
1 x 250V; 1.0 A; T, 5 x 20, H
Wall wart:
110V – 240V / 50 / 60 Hz (wide-range)
Class:
IIa
Mark:
CE0123
Wavelength (optional):
UVA, UVB 311nm, UVA Woodlight