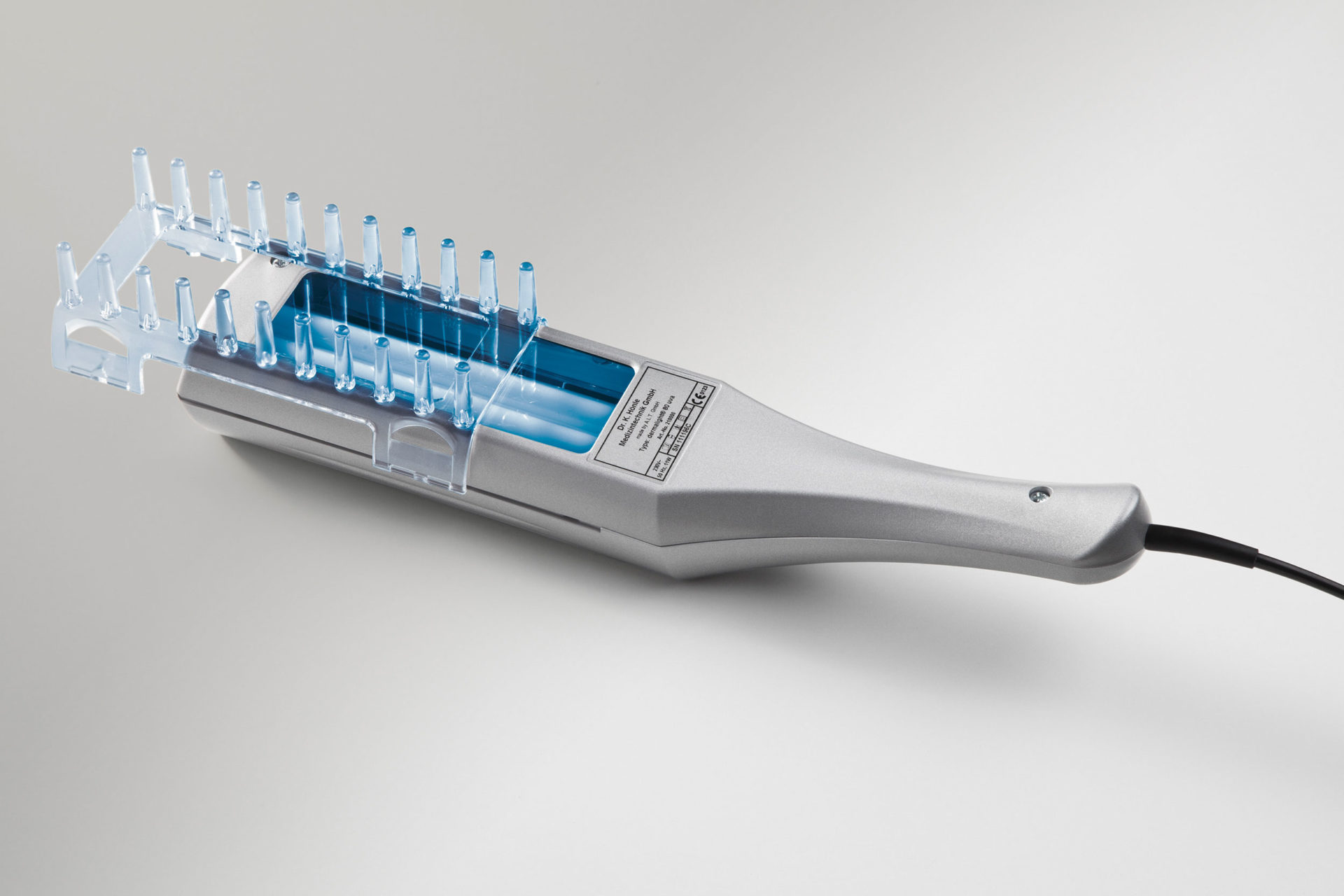 dermalight® 80
The UV comb for effective home therapy
The dermalight® 80 is the ideal UV comb for the treatment of the scalp and not easily accessible parts of the body. The detachable comb element ensures the uniform parting of the hair and the correct distance from the irradiation surface.
dermalight® 80 is optionally equipped with a UV-A or UV-B narrow band radiation source and therefore suited for a wide range of indications. Thanks to its simple operation and cleaning, dermalight® 80 is also the ideal unit for home therapy.
The scope of delivery of the dermalight® 80 includes the UV comb with attachable element, an LCD timer and UV safety goggles.
Special Features
Ideal for use in the hospital and surgery and at home
Well suited for long-term operation
Simple use with difficult to access parts of the body
Short treatment times thanks to high intensity
Different variants available, also for diagnosis
Light-weight and wieldly
The acrylic glass disc protects against direct contact and soiling of the radiation source
The detachable comb element serves as a spacer element and is dishwasher-proof
Rounded, light-conducting comb teeth for gentle treatment of the scalp
Large, homogeneous irradiation field
Who changes the lamps?
The lamps are changed by our trained service personnel. Click here for the contact form.
The closed, compact housing and the removable, dishwasher-safe comb attachment make it easier to carry out all hygiene measures and, above all, ensure the longevity of the lamp and UV comb.
The scope of delivery includes the UV comb, the removable comb attachment, the UV protective glasses, the LCD timer and the instructions for use.
Indications UV-B-311nm
Psoriasis
Vitiligo
Vitamin D deficiency
Indictions UV-A
Neurodermatitis
Psoriasis (PUVA therapy)
Polymorphous photodermatosis
Various eczemas
Dimensions (L x W x H)
300 x 60 x 45 mm
Light aperture:
110 x 40 mm
Weight of comb:
Ca. 285 g
Mains connection:
230 V / 50 Hz / 20 VA
We reserve the right to make technical changes
Spectral range of the radiation source (optional)

UV-B narrow band (311nm)
UV-A (320-400nm)