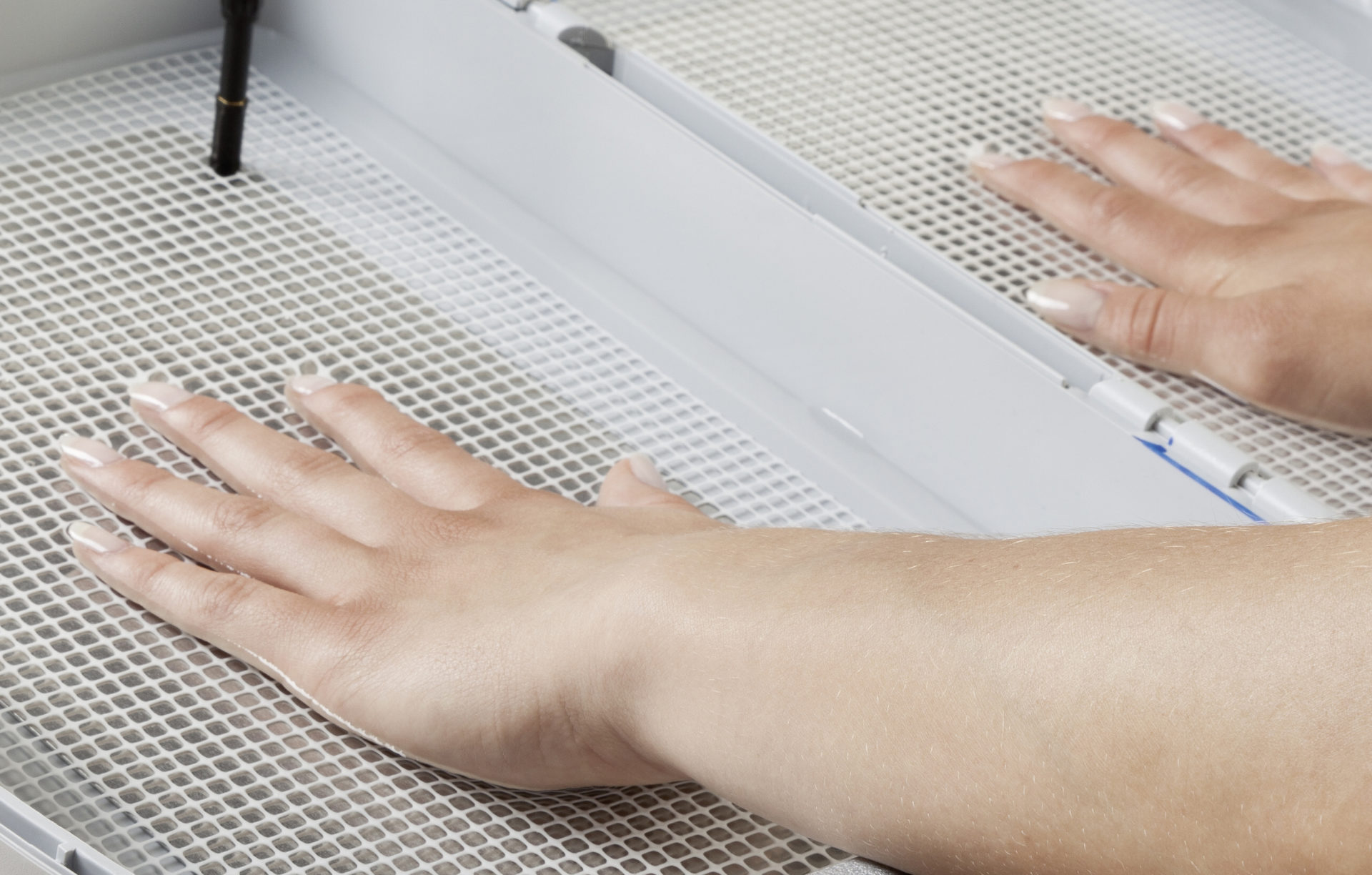 idromed® 5 GS/PS
The high performance tap water iontophoresis units
for the therapy of excessive perspiration – hyperhidrosis
Constant (GS) or pulsed (PS) DC current
Constant and pulsed DC current therapy has already been successfully used in medicine for many years. The effectiveness of therapy with constant DC current, as practiced with the idromed® 5 GS, has been internationally verified in numerous clinical studies. The somewhat later developed
pulsed DC current technique (idromed® 5 PS), in which the current is clocked with a physiologically favourable frequency, is distinguished by the significant reduction of the perceived therapy current. In scientific studies this current profile form is evaluated as the optimal therapeutic procedure.
Iontophoresis therapy has been made accessible to particularly sensitive patients, children and adolescents. With both techniques, during therapy the hands and feet can be removed from the therapy trough without the "electric fence" effect known until now.
Special features
Drug-free therapy
Ideal for application in the hospital, the surgery and at home
Operation without an auxiliary person
Safe and simple handling with a single rotating control button
Pre-selection of the therapy dose
Fully automatic therapy procedure
No electric fence effect thanks to intelligent safety circuit and overtherapy protection
Indication of remaining therapy time
Available in different languages
Very easy to read display with text accompanying therapy
Optionally constant (GS) or pulsed (PS) DC current, avoiding confusion
Large-surface, nickel-free aluminium electrodes for homogeneous current density and the elimination of allergic reactions
Environmentally friendly and economical mains operation, no further maintenance costs due to replacing accumulators or batteries
Highest quality processing and materials
Solid shell cases serve simultaneously as troughs for hand and foot therapy
Current instead of medication
Tap water iontophoresis therapy with the idromed® 5 GS and idormed® 5 PS takes place in the form of hand and foot baths in tap water. Troughs through which constant or pulsed DC current is led via electrodes serve for this purpose. The weak current retards the sweat gland secretion without damaging the glands.
Comfortable and hygienic
The detachable edge protection noticeably enhances the comfort and protects against pressure points while handling. To clean simply remove, rinse with clear water and then dry with a customary paper household towel.
Optional armpit electrodes
The special armpit electrodes with sponge pouches also enable this comfortable hyperhidrosis therapy under the armpits. Many patients also use idromed® 5 GS / PS for coccygeal bone therapy. Further information about applications can be found in the instruction manual.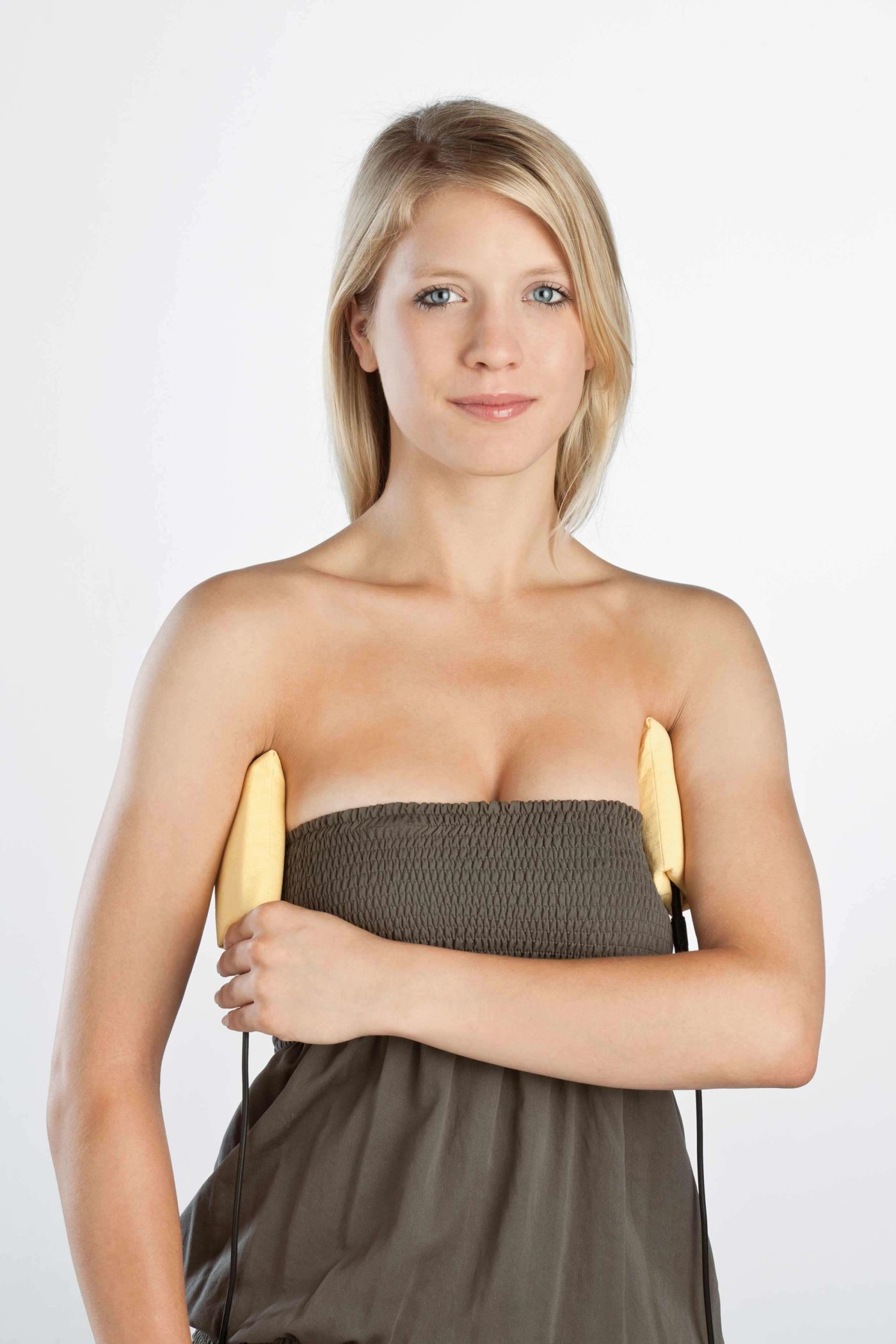 When should you not use idromed® 5?
For the following indications idromed® 5 may be used only as directed by the attending physician or not used at all:
Cardiac arrhythmia, electronically driven implants (cardiac pacemakers), metallic implants in the region of current flow, metalliferous intrauterine implants (spirals), pregnancy, large-area skin defects or insensitivity to pain stimuli.
User tip
Keeping a patient diary is an essential contribution to therapeutic success.
Documentation of the applica- tions simplifies the physician's assessment of the course of therapy and allows the optimisation of the therapy.
In addition, the history of treatment indicates the point in time for the replacement of the electrodes.
The patient diary is included in the scope of delivery.
Unit dimensions (L x W x H): 210 x 120 x 70 mm
Case dimensions (L x W x H): 290 x 390 x 110 mm
Total weight: 2,5 kg (unit, case and accessories)
Mains connections:
Wide-range power supply
100 V~ – 240 V~/50-60 Hz
We reserve the right to make technical changes