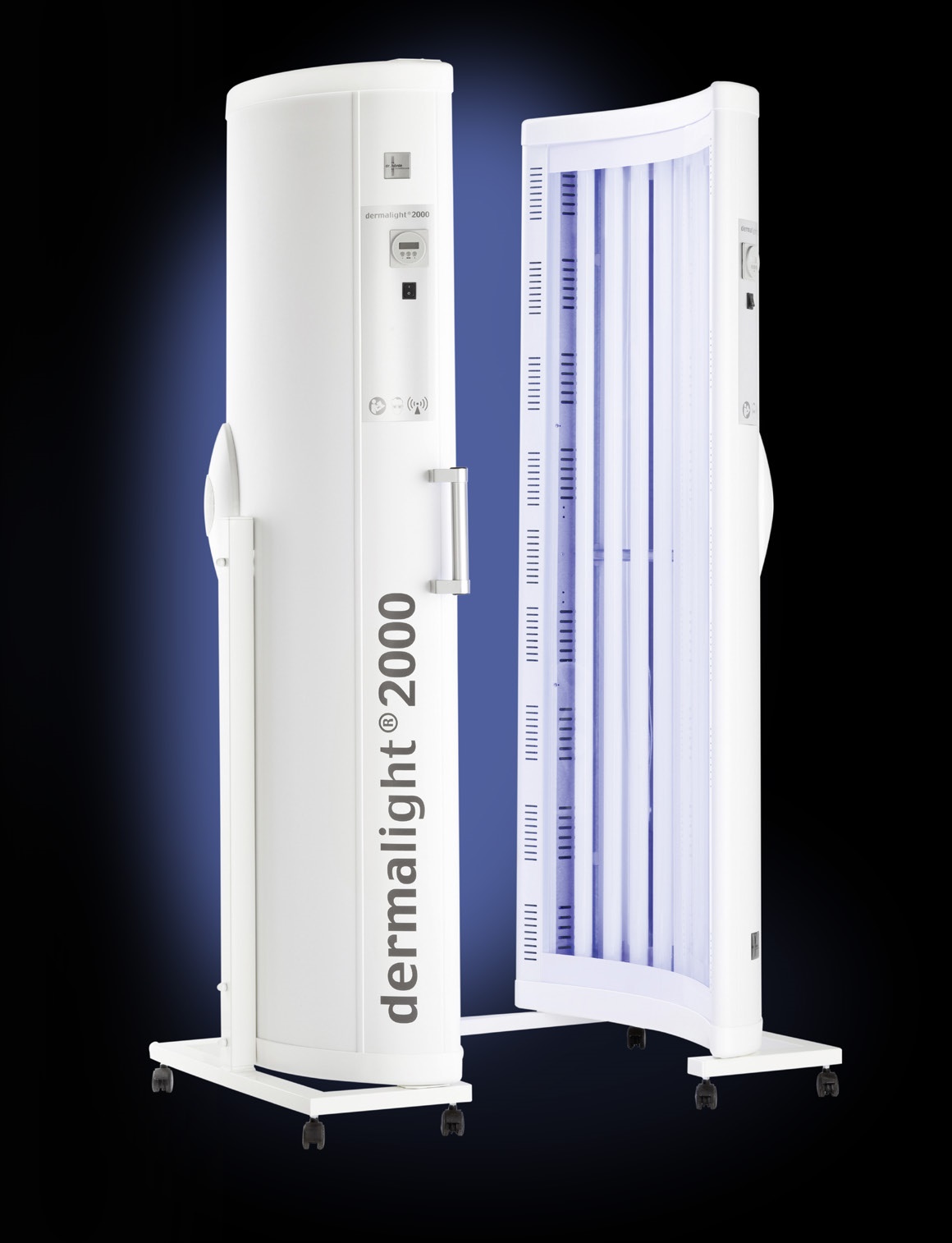 dermalight® 2000
The all-rounder in phototherapy – Variable and space-saving
Thanks to its mobility and its compact and variable design, dermalight® 2000 enables partial and full body therapies in a confined space. The light and open design reduces the patient's feeling of tightness and also enables corpulent people to enjoy comfortable treatment.
Efficient and powerful
The ergonomic design ensures homogeneous all-round radiation. The uniform radiation results in short treatment times and therefore more pleasant therapy. In the partial body area, the modular system supports good radiation results on every skin area. Hands can even be irradiated separately under the blind, which also serves to protect healthy skin.
Special features

Mobile system
Light and handy
Space-saving
Separable system for more flexibility*
Variable spotights
UV-tight blind for partial body radiation
Modules individually controllable
Integrated timer
Choice of does or time control
Automatic shutdown
Display of the remaining therapy time
Quiet operation
Approved for balneophototherapy
230 volts, no additional power connection
* the area of application of the individual modules depends on the spotlight equipment
Easy handling and high efficiency
dermalight® 2000 is a particularly economical combination device for almost all tasks in UV phototherapy. Thanks to the variable spotlight equipment and the two powerful spotlight modules that can be separated from one another, the device can be individually adapted to the respective areas of application. This covers almost every facet of successful UV phototherapy. The device is easy to clean and particularly easy to maintain.
The class leader
dermalight® 2000 saves space, time and costs – paired with top values in handling, flexibility and performance.
Ergonomics and flexibility
The powerful UV therapy device dermalight® 2000 enables optimal intensity utilization due to the body-appropriate  geometry.
The ergonomic shape of the radiation body avoids strenuous posture.
With the help of the mobile tripod, the device can be conveniently brought to the respective treatment site.
Depending on the spotlight configuration, the two modules can be used and controlled separately. This creates the greatest possible flexibility in daily use. Due to the low heat development and integrated fan, no external ventilation system is necessary.
The acrylic glass panes protect against direct contact and contamination of the spotlights and enable simple and quick cleaning.
Further information
Indications UV-B 311 nm
Psoriasis
Vitiligo
Vitamin D deficiency
Indications UV-A
Neurodermatitis
acne
Psoriasis (PUVA therapy)
Polymorphic light eruption
Module dimensions: 770 x 570 x 1950 mm
Overall device width: 1100 x 1950 mm
Dimensions of radiator outlet opening: 610 x 1730 mm
Power: 900 W / 1,300 W
Weight: approx. 35-45 kg / module
Mains connection: 230 volt / 50 Hz 8 or 12 med. UV lamp per module
We reserve the right to make technical changes
Spectral range of the radiation source
UV-B narrow band (311 nm)
UV-A (320-410 nm) (PUVA)
UV-A (340-400 nm)
UV-A1 (365-375 nm)
Mixed configuration optional